His new book, Full Throttle, chronicles his life adventures and will be out this Summer.
Get your hands on a copy today!
I decided to write the book because I was frequently asked to speak and share my journey in the attributes of my success. I never thought anything I did was exceptional because I was thoroughly in the moment of doing it. Then when I was asked to fly in TOPGUN Maverick, enough people were interested in my journey that I decided to share it and donate a portion of the proceeds to the Blue Angels Foundation to help prevent veteran suicide.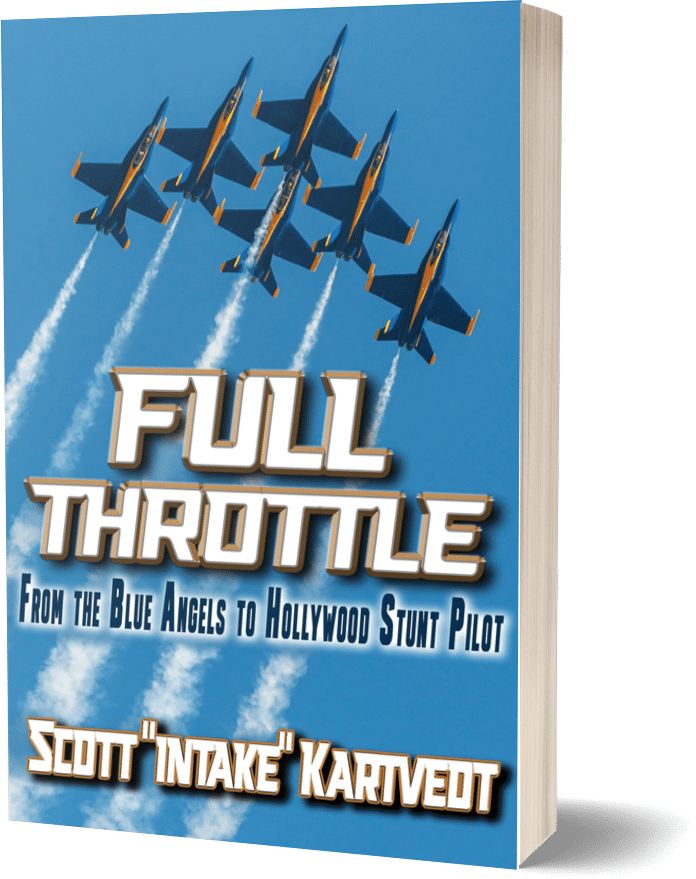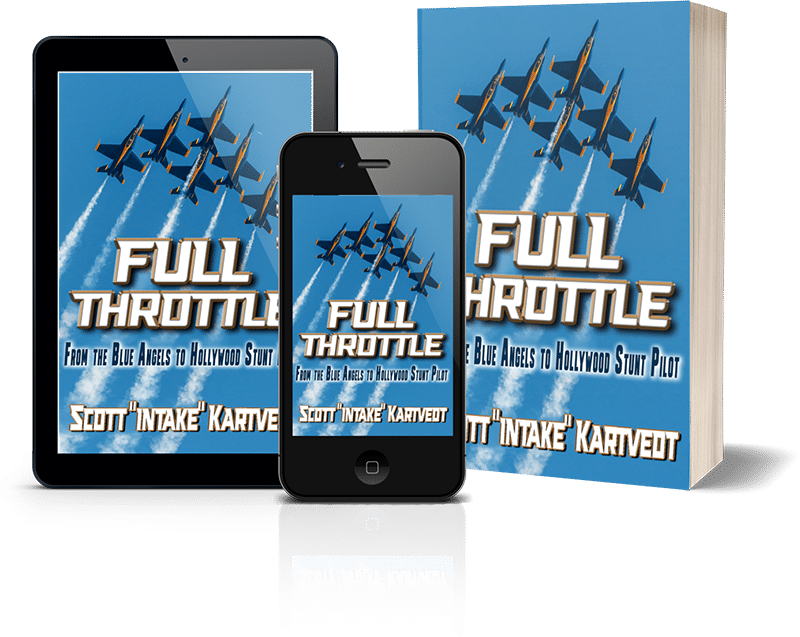 I've listened to both of your episodes from Combat Story (and now also rewatched Top Gun Maverick), and bought the e-version of your book earlier this week. I finished reading it last night, and just wanted to drop you a line telling you how much I enjoyed it!
I've been a military buff and Blues fan since I was a kid, so the book was definitely in my wheelhouse. But the leadership lessons that you presented were awesome – they were simple and humble, yet direct and powerful. Things I'll definitely try to apply in my own life and career. I'll definitely recommend the book to friends and co-workers, as well as add it to my list of graduation present books.
Thanks again for sharing your story and leadership lessons, and thanks for your years of service!
Scott Kartvedt watched Top Gun, and then went on to be a Navy pilot. He was selected to fly with the elite Blue Angels Flight Demonstration Team, served during five combat deployments flying 91 combat missions, and accumulated over 6,300 flight hours, 658 carrier arrested landings on eleven aircraft carriers.
He went on to command VFA-83, an award-winning FA/18 Squadron. He served as the Navy's first commanding officer of the only F-35C Stealth Strike Fighter Squadron in the US before retiring from the Navy and returning to civilian life.
Scott is currently a professional pilot and on the Board of Directors for the Blue Angel Foundation. He is an instructor and evaluator for United Airlines in Denver, Colorado, the number 5 pilot for the Patriot Jet Team, the only civilian jet demonstration team in North America, and was a stunt pilot in TOPGUN Maverick and was the aviation safety supervisor in Mission Impossible 8.
He lives in Colorado with his wife of 32 years, and his two sons are both naval aviators, following in their father's footsteps.
The message I would like readers to take away from the book is that if you, a young man with my background, a mother who tried to commit suicide twice, a father who filed for bankruptcy and foreclosed on our childhood home, can continue to live each day and pursue dreams then anyone can. I attribute my success and the opportunities I have enjoyed to saying "yes" to opportunities, being willing to learn from mistakes, and asking for help.
Hidden
Tell us about your journey to becoming a pilot.
Becoming a pilot began in 1986 with the release of the movie Top Gun. I was a senior in high school, and I went with all my buddies to the theaters many times to see it. My best friend Bob and I told all our friends that we would become fighter pilots. We both went off to college.
He joined the Air Force through their ROTC program and became a fighter pilot. I graduated from Pepperdine University with an accounting degree and, not to be outdone by my buddy Bob, called the Navy recruiter and told them I wanted to fly airplanes off ships. Eight months of paperwork and testing later, I was accepted into the Navy's flight program.
You flew as a fighter pilot in Iraq and Afghanistan. Does anything prepare you for the experience?
Combat is an experience in and of itself, and preparing for war is truly the epitome of practicing like you were going to play. We trained extensively during workups to ensure we were physically and mentally prepared for battle.
How did all of this lead to your film stunt work? You were the stunt pilot in Top Gun MAVERICK - that must have been incredible!
My work in Top Gun Maverick resulted from years of experience. I joined the Navy because of the movie Top Gun when I was 22 years old, and then it was surreal to have the opportunity to fly as a stunt pilot for the sequel when I was 51. This opportunity led me to be asked to first train the actors and actresses in high-performance jet aircraft. Later, I was called back and asked to perform as a stunt pilot in the final fight scene of the movie. It was exceptionally intense, demanding work and yet the culmination of a full-circle journey. Sometimes I pinch myself at my good fortune.
You also do much work with the Blue Angels Foundation - share some of that with us.
The Blue Angels Foundation is the most gratifying work I have done. I have such empathy, compassion, and respect for the sailors, airmen, marines, soldiers, and Coast Guardsmen that protect and defend our constitution that I had to continue serving them.
Like many people, I have experienced the ripple effects of losing someone we care about to suicide. The pivotal moment for me was November 5, 2021. Our family was attending the Blue Angels 75th reunion show in Pensacola, FL. Our oldest son, Wyatt, received a phone call informing him that his Naval Academy roommate had taken his life that morning. As a family, we were devastated. I began sobbing and realized that I was in a position to do something through the Blue Angels Foundation to help prevent veteran suicide.
We have a national epidemic of veteran and active-duty suicides that is unacceptable. Seventeen veterans and five active-duty military members take their own lives daily on average. They need support financially to receive the mental and physical help they need to overcome PTSD or other demons they may face.
I have been afforded incredible opportunities in my life and have been blessed with the gift of communication in leadership, so I choose to use those attributes to save the lives of our fellow citizens.
What are you working on now, and what can we expect next?
I'm working on the release of this book and generating a series of books based on the experiences I have enjoyed. There will be follow on books regarding leadership, establishing organizational cultures of excellence, corporate safety in high-risk environments, and debriefing to accelerate performance.
Interested in having "Intake" present his high energy KEYNOTE?
"*" indicates required fields